SPEAKER:

Sian Harris
---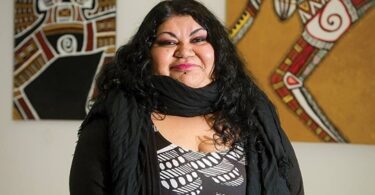 Sian Harris is a Kurnu Paakantyi Nhuungku from Wilcannia in far west New South Wales. She is a contemporary Aboriginal artist who works mainly with acrylic on canvas. She has been working in the public education sector for the majority of her adult life and has a specific interest in recording and teaching Indigenous languages and histories. She enjoys creating work that celebrates Blak women.
Her body of work comes from the worldview of a Kurnu Paakantyi Nhuungku. The pieces are at once personal and political, in keeping with Sian's stance that her presence, as a self-presenting Blak Woman, in systems and structures built to exclude her, is a radical act.
Her work focuses on Paakantyi Spirituality; Aboriginal resistance; and representations of womanhood. She is a storyteller. Her writing asserts that there are many stories to be told. It asserts that Aboriginal writing can, and should, explore the gamut of human experience, thus stepping away from approved, sanitised versions voice and truth. It acknowledges the existence of women like her.
Presently, she is interested in creating paintings that emulate 'objects of ethnography' that depict Indigenous women under the White male gaze. She explores how these depictions, and actual parts of Indigenous women's bodies are studied and collected, but their voices are rarely heard.